Our Doctors:

Alan D. Schupack, DDS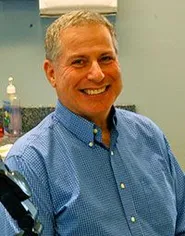 Dr. Schupack has been practicing dentistry in Wallingford, CT since 1985. After graduating from Platt High School in Meriden, Dr. Schupack earned a B.S. degree from the University of Bridgeport, followed by a Masters degree in public health from the University of California at Los Angeles. He concluded his education at the University of Maryland (the first dental school in the world) where he received his DDS. Since earning his degree, Dr. Schupack has had a desire to give back to his community. He volunteered at the dental clinic at the Hospital for Special Care in New Britain, CT from 2001-2005. He has been a volunteer faculty member at the University of Connecticut School of Dental Medicine since 2004, and he has participated in the Connecticut Mission of Mercy since 2010. More recently, Dr. Schupack has felt compelled to share his skills and provide support on a more global level. He has joined with other UConn faculty and students in mission trips to Honduras, in which they bring dental care to some of the poorest people in the Western Hemisphere. Dr. Schupack is a member of the American Dental Association, The Connecticut State Dental Association and the Meriden-Wallingford-Cheshire Dental Society, of which he is a past-president.
Dr. Schupack lives with his wife Cindy and their Golden Retriever. They have three grown children (Dan, Eric and Becca,) two wonderful daughter-in-laws (Katie and Kate,) and one adorable little grandson, (Ari Benjamin!)
Wendy F. Becker, DDS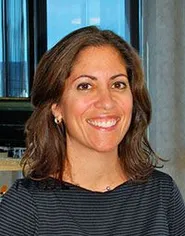 Dr. Becker has been with the practice since 1999. She is a member of the American Dental Association, The Connecticut State Dental Association and the Meriden-Wallingford-Cheshire Dental Society. She enjoys being a dentist and strives to make every patient comfortable in her chair, while providing them the best dental care. Prior to moving to Connecticut, she completed her General Practice Residency at Cornell Medical Center, New York Hospital, after receiving her DDS degree from Stony Brook School of Dental Medicine in 1998. Dr. Becker did her undergraduate studies at Brandeis University, where she majored in psychology and minored in fine arts.
When she is not in the office, Dr. Becker and her husband, David Feldman, can usually be found on a baseball field, inside a hockey rink, or on a tennis court with any of their four boys. Dr. Becker and her husband started and run The Children's Fund for GSD Research ( www.cureGSD.org ) which they founded to help raise research dollars to find a cure for one of their children. In her spare time, Dr. Becker loves going for runs, playing tennis and painting.
------------------------------------------------------------------------------------------------------
Our Hygienists:

Deneen, RDH
I am a registered dental hygienist and have been with Dr. Schupack's office since 1990. I am dedicated to giving you a happy, healthy smile.
Carol, RHD, BS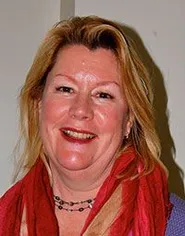 I have 37 years of dental hygiene experience, nearly 25 years with Dr. Schupack's practice, which is one of the longest running positions in the practice. I am happily married and a proud mother with two married sons and two step daughters, one of whom is also married. My extended family also includes my seven grandchildren and two more on the way! They all keep me very busy, focused, and happy!
Alison
I've been in the dental field since 1995; working as a dental hygienist at this practice since 2002. I enjoy the diversity of the patients in this practice. It's nice to come to work and know I am helping patients become healthier and happier. :-D I graduated from Tunxis Community College with an Associates Degree in Science/Dental Hygiene in 2000. My family includes my husband, our daughter, my stepson and our two dogs. We love weekends when we can all go camping together.
------------------------------------------------------------------------------------------------------
Our Dental Assistants: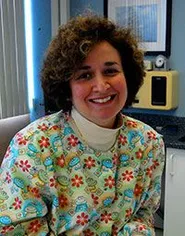 Teresa Pagliaro
I am a certified dental assistant in the Schupack/Becker Dental office since 1986. I am proud to say that I was Dr. Schupack's first employee, and I am still here today to talk about it! I enjoy seeing the patients come in year after year. I have a true passion for dentistry and I look forward to coming to work every day.
I am a member of the American Dental Assistants Association. I am also fluent in Italian and love walking on the beach.
I live in Meriden with my husband, and we enjoy every minute being with our young son!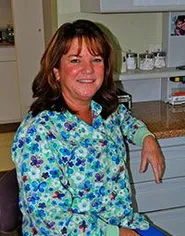 Bridget
I have been a dental assistant since 1985. I have been with this practice since 2002. I earned my associates degree from Post College in 1978. I love being an assistant. Having grown up in Wallingford, one of the best parts of my job is seeing patients/old friends and catching up with them year after year. I am married with two grown children and an awesome daughter-in-law. I love gardening, summers in Maine with my family, and love going to concerts including my son's bands, "Down the Hatch" and "Lights Out."
------------------------------------------------------------------------------------------------------
Our Front Desk Staff:
Marie

Marie relocated to Connecticut from South Florida in 1990. At that time, she also chose to venture into a new career and has been working in dental practices in the Wallingford area for over 18 years. Marie joined our office staff in 2007. You will find her assisting each patient when they arrive in our office.
Marie communicates directly with patients about their dental needs, insurance coverage, and financial arrangements. Marie also utilizes her administrative skills to provide support to the doctors, hygienists, and dental assistants in answering all aspects of our patient's needs.
Marie and her husband, Michael reside in Cheshire with their sons Bradley and Robert, and their very sweet Golden Retriever of 12 years, Bailey.
Cindy
I have worked with Dr. Schupack since 1986 in many capacities. I am a registered dietitian, but have been working the role of a bookkeeper for the office more recently. I have also been married to Dr. Schupack since 1980. I live in Cheshire with my family and Golden Retriever.
Carol Ann
I have been working in Drs. Schupack and Becker's office since 1996 and have been in the dental field since 1980. I work at the front desk, where I enjoy the interaction I have with patients. I love being the first contact that many patients have with our office. I enjoy walking, reading and cooking. It has been said that I make the best oatmeal raisin cookies in Wallingford! I live in Wallingford with my husband and my dog, Emma. My two children are grown and now I have a son-in-law.